Keep the Pipes Flowing
Sanitary sewers play an important role in keeping our community and environment healthy. Keeping the sewer system healthy requires help from everyone.
Know the difference
A sanitary sewer system is a closed system of pipes and mechanisms that transport wastewater from homes and businesses to a wastewater treatment plant where the water is cleaned to a level that it can be safely returned to the environment.
Storm drains collect rain, also known as stormwater, and send it untreated to area creeks and rivers.
Sanitary sewers were not designed to carry stormwater. When stormwater infiltrates the sanitary sewer pipe, it surcharges the line forcing an overflow from a manhole. Though highly diluted, this wastewater flows untreated into the storm drains, eventually reaching area waters.
Property Owners Take Note
There is a public and a private section of the sanitary sewer line. The portion of the pipe that connects to a house or building is the private lateral. Maintaining the private lateral is the responsibility of the property owner. MAWSS maintains the public lateral and the sewer main.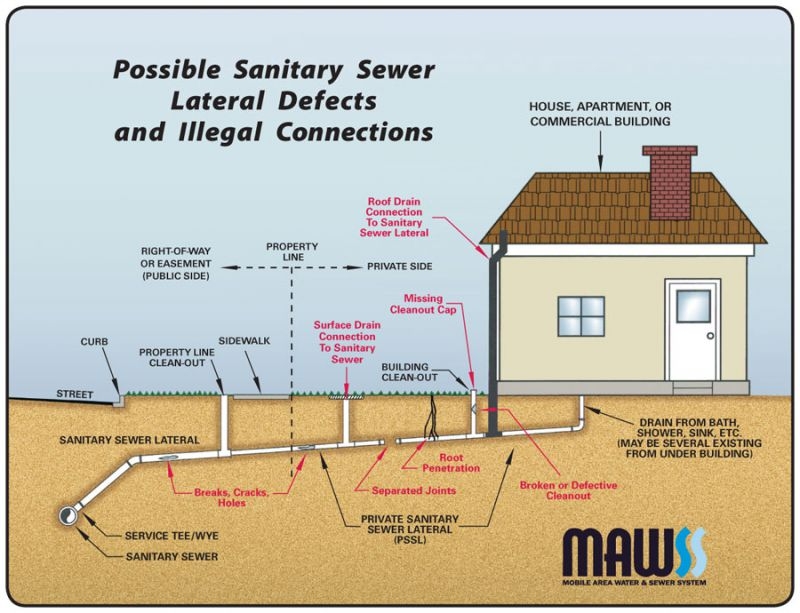 To prevent costly repairs and keep the sanitary sewer system operating efficiently:
Don't plant trees close to the sewer lateral. Tree roots seek out water and will find even the tiniest crack in the sanitary sewer lateral. Once in, they grow quickly, resulting in sluggish pipes or worse, a blockage.
Never put fat, oil or grease down your drain. These types of foods and food products build up in the sewer line and can cause blockages resulting in sewer overflows. Use MAWSS' free cooking grease recycling program, It's Easy to be Ungreasy, to dispose of unwanted fat, oil and grease.
Keep stormwater out of the sanitary sewer line by replacing missing or broken cleanout caps. These caps cover your sewer lateral and flow directly into the sanitary sewer system. Check to be sure there are no other downspouts going into the sanitary sewer.
Don't use your toilet as a trash can. Human waste and toilet paper are the only things that should be flushed. Everything else should go in the trash can.
Never put anything in a manhole. If you see anyone discharging materials into a manhole, call law enforcement.
If you observe or encounter a sewer related problem, call MAWSS' 24hour Customer Care Team at 251 694-3165.
---